Today's radio broadcast is sponsored in loving memory of Roger Aukamp, by Janet and Mary Aukamp.
Click Here to listen live at 9:00am Sundays service on WPMB.
Today's liturgy is the Divine Service, Setting Three, LSB pages 184ff.




Stand
The sign of the cross may be made by all in remembrance of their Baptism.
P In the name of the Father and of the T Son and of the Holy Spirit.
C Amen.
P Beloved in the Lord! Let us draw near with a true heart and confess our sins unto God our Father, beseeching Him in the name of our Lord Jesus Christ to grant us forgiveness.
P Our help is in the name of the Lord,
C who made heaven and earth.
P I said, I will confess my transgressions unto the Lord,
C and You forgave the iniquity of my sin.
Kneel/Stand
Silence for reflection on God's Word and for self-examination.
P O almighty God, merciful Father,
C I, a poor, miserable sinner, confess unto You all my sins and iniquities with which I have ever offended You and justly deserved Your temporal and eternal punishment. But I am heartily sorry for them and sincerely repent of them, and I pray You of Your boundless mercy and for the sake of the holy, innocent, bitter sufferings and death of Your beloved Son, Jesus Christ, to be gracious and merciful to me, a poor, sinful being.
P Upon this your confession, I, by virtue of my office, as a called and ordained servant of the Word, announce the grace of God unto all of you, and in the stead and by the command of my Lord Jesus Christ I forgive you all your sins in the name of the Father and of the T Son and of the Holy Spirit.
C Amen.
Stand
1Praise the Lord!
Praise the Lord, O my soul!
2I will praise the Lord as long as I live;
I will sing praises to my God while I have my being.
3Put not your trust in princes,
in a son of man, in whom there is no salvation.
4When his breath departs he returns to the earth;
on that very day his plans perish.
5Blessèd is he whose help is the God of Jacob,
whose hope is in the Lord his God,
6who made heaven and earth,
the sea, and all that is in them,
who keeps faith forever;
7who executes justice for the oppressed,
who gives food to the hungry.
The Lord sets the prisoners free;
8the Lord opens the eyes of the blind.
The Lord lifts up those who are bowed down;
the Lord loves the righteous.
9The Lord watches over the sojourners;
he upholds the widow and the fatherless,
but the way of the wicked he brings to ruin.
10The Lord will reign forever,
your God, O Zion, to all generations. Praise the Lord!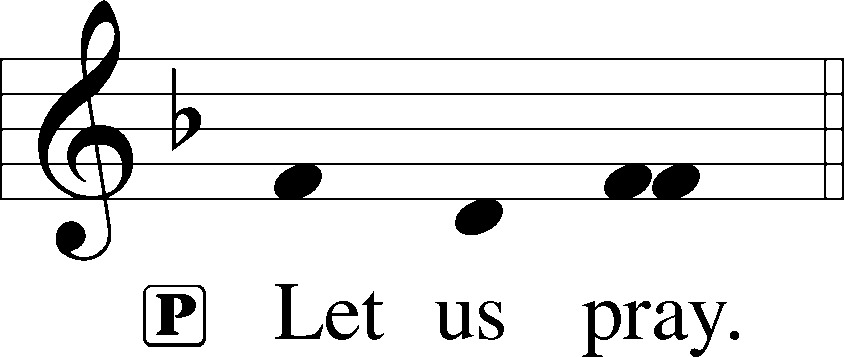 P Almighty and merciful God, by Your gift alone Your faithful people render true and laudable service. Help us steadfastly to live in this life according to Your promises and finally attain Your heavenly glory; through Jesus Christ, Your Son, our Lord, who lives and reigns with You and the Holy Spirit, one God, now and forever.

Sit
17Is it not yet a very little while
until Lebanon shall be turned into a fruitful field,
and the fruitful field shall be regarded as a forest?
18In that day the deaf shall hear
the words of a book,
and out of their gloom and darkness
the eyes of the blind shall see.
19The meek shall obtain fresh joy in the Lord,
and the poor among mankind shall exult in the Holy One of Israel.
20For the ruthless shall come to nothing
and the scoffer cease,
and all who watch to do evil shall be cut off,
21who by a word make a man out to be an offender,
and lay a snare for him who reproves in the gate,
and with an empty plea turn aside him who is in the right.
22Therefore thus says the Lord, who redeemed Abraham, concerning the house of Jacob:
"Jacob shall no more be ashamed,
no more shall his face grow pale.
23For when he sees his children,
the work of my hands, in his midst,
they will sanctify my name;
they will sanctify the Holy One of Jacob
and will stand in awe of the God of Israel.
24And those who go astray in spirit will come to understanding,
and those who murmur will accept instruction."
A This is the Word of the Lord.
C Thanks be to God.
9because, if you confess with your mouth that Jesus is Lord and believe in your heart that God raised him from the dead, you will be saved. 10For with the heart one believes and is justified, and with the mouth one confesses and is saved. 11For the Scripture says, "Everyone who believes in him will not be put to shame." 12For there is no distinction between Jew and Greek; the same Lord is Lord of all, bestowing his riches on all who call on him. 13For "everyone who calls on the name of the Lord will be saved."
14But how are they to call on him in whom they have not believed? And how are they to believe in him of whom they have never heard? And how are they to hear without someone preaching? 15And how are they to preach unless they are sent? As it is written, "How beautiful are the feet of those who preach the good news!" 16But they have not all obeyed the gospel. For Isaiah says, "Lord, who has believed what he has heard from us?" 17So faith comes from hearing, and hearing through the word of Christ.
A This is the Word of the Lord.
C Thanks be to God.
Stand

P Sing aloud to God our strength; shout for joy to the God of Jacob.

P The Holy Gospel according to St. Mark, the seventh chapter.

31[Jesus] returned from the region of Tyre and went through Sidon to the Sea of Galilee, in the region of the Decapolis. 32And they brought to him a man who was deaf and had a speech impediment, and they begged him to lay his hand on him. 33And taking him aside from the crowd privately, he put his fingers into his ears, and after spitting touched his tongue. 34And looking up to heaven, he sighed and said to him, "Ephphatha," that is, "Be opened." 35And his ears were opened, his tongue was released, and he spoke plainly. 36And Jesus charged them to tell no one. But the more he charged them, the more zealously they proclaimed it. 37And they were astonished beyond measure, saying, "He has done all things well. He even makes the deaf hear and the mute speak."
P This is the Gospel of the Lord.

C I believe in one God,
     the Father Almighty,
     maker of heaven and earth
          and of all things visible and invisible.
And in one Lord Jesus Christ,
     the only-begotten Son of God,
     begotten of His Father before all worlds,
     God of God, Light of Light,
     very God of very God,
     begotten, not made,
     being of one substance with the Father,
     by whom all things were made;
     who for us men and for our salvation came down from heaven
     and was incarnate by the Holy Spirit of the virgin Mary
     and was made man;
     and was crucified also for us under Pontius Pilate.
     He suffered and was buried.
     And the third day He rose again according to the Scriptures
          and ascended into heaven
     and sits at the right hand of the Father.
     And He will come again with glory to judge both the living and the dead,
     whose kingdom will have no end.
And I believe in the Holy Spirit,
     the Lord and giver of life,
     who proceeds from the Father and the Son,
     who with the Father and the Son together is worshiped and glorified,
     who spoke by the prophets.
     And I believe in one holy Christian and apostolic Church,
     I acknowledge one Baptism for the remission of sins,
     and I look for the resurrection of the dead
     and the life T of the world to come. Amen.
Sit




Text: James Quinn, 1919–2010
Tune: Johann Rudolph Ahle, 1625–73, alt.
Text: © 1969 OCP Publications. Used by permission: LSB Hymn License no. 110001518
Tune: Public domain
Stand





Sit
Stand






P It is truly meet, right, and salutary that we should at all times and in all places give thanks to You, holy Lord, almighty Father, everlasting God, through Jesus Christ, our Lord. Therefore with angels and archangels and with all the company of heaven we laud and magnify Your glorious name, evermore praising You and saying:




C Our Father who art in heaven,
     hallowed be Thy name,
     Thy kingdom come,
     Thy will be done on earth as it is in heaven;
     give us this day our daily bread;
     and forgive us our trespasses as we forgive those who trespass against us;
     and lead us not into temptation,
     but deliver us from evil.
For Thine is the kingdom and the power and the glory forever and ever. Amen.













Sit




Text: Thomas Aquinas, c. 1225–1274; tr. The Hymnal 1940
Tune: Chants ordinaires de l'Office Divin, Paris, 1881
Text: © The Church Pension Fund. Used by permission: LSB Hymn License no. 110001518
Tune: Public domain



5 Look unto Him, ye nations; own
    Your God, ye fallen race.
Look and be saved through faith alone,
    Be justified by grace.
6 See all your sins on Jesus laid;
    The Lamb of God was slain.
His soul was once an off'ring made
    For ev'ry soul of man.
7 To God all glory, praise, and love
    Be now and ever giv'n
By saints below and saints above,
    The Church in earth and heav'n.
Text: Charles Wesley, 1707–88, alt.
Tune: Carl G. Gläser, 1784–1829
Text and tune: Public domain




Text: Timothy Dudley-Smith, 1926
Tune: Georg Joseph, 17th cent., adapt.
Text: © 1984 Hope Publishing Co. Used by permission: LSB Hymn License no. 110001518
Tune: Public domain



Text: Johann Olearius, 1611–84; (sts. 1, 3): tr. Matthias Loy, 1828–1915, alt.; (st. 2): tr. Mark A. Jeske, 1952
Tune: Geistliche Lieder auffs new gebessert, 1543, Wittenberg, ed. Joseph Klug
Text (st. 2): © 1993 Mark A. Jeske. Used by permission: LSB Hymn License no. 110001518
Text (sts. 1, 3) and tune: Public domain
Stand






A Let us pray.
We give thanks to You, almighty God, that You have refreshed us through this salutary gift, and we implore You that of Your mercy You would strengthen us through the same in faith toward You and in fervent love toward one another; through Jesus Christ, Your Son, our Lord, who lives and reigns with You and the Holy Spirit, one God, now and forever.












Text (sts. 1–2, 4): Daniel March, 1816–1909, alt.; (st. 3): unknown, alt.
Tune: Joseph Barnby, 1838–96
Text and tune: Public domain
Unless otherwise indicated, Scripture quotations are from the ESV® Bible (The Holy Bible, English Standard Version®), copyright © 2001 by Crossway, a publishing ministry of Good News Publishers. Used by permission. All rights reserved.
Created by Lutheran Service Builder © 2022 Concordia Publishing House.